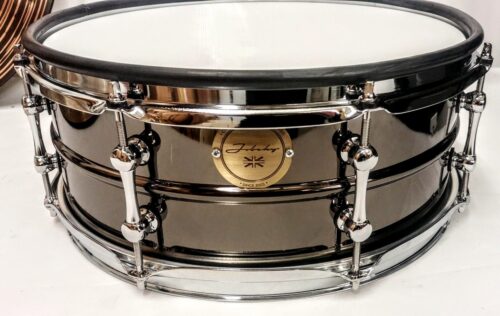 Prestige Custom Dual Zone 14″Electronic Drum ( Black Chrome)
£299.00
Description
Prestige Dual Zone 14″x 5.5″ eDrum
***** NEW BLACK CHROME SNARE ****
An amazing looking high quality series three eDrum, featuring all of out technical know how, to give you the most complete playing experience possible.
The following is included as standard: or Features:
Black Chrome metal Shell,
14″ Diameter playing surface
8 lug design with hoop and heavy duty rubber rim
Dual Trigger for Head and Rim shots
Fully compatible with positional sensing
1//4″ TRS (Stereo) stainless steel output jack
3 ply white Mesh head, for acoustic look and feel
For more details of our propriety technologies, such as JDT trigger mounts, our ERT triggering system, or even our warranty please see the relevant pages on our website, or contact Jobeky directly.
This drum is fully compatible with 2Box and Roland modules and midi devices, and can be used as a Tom, Snare or effects unit depending on configuration.
---
Only logged in customers who have purchased this product may leave a review.