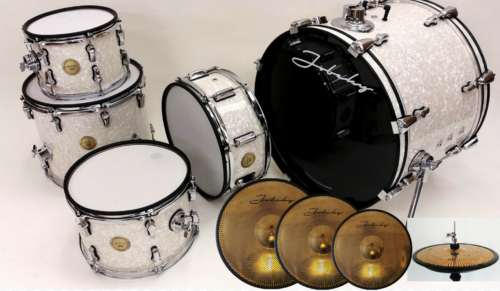 Jobeky Compact Pro with 14″ 16″ 18″ drum/ Low Volume electronic cymbal package
£1,949.00
Shipping Weight: 35kg
Manufactured by: Jobeky
Compact Pro gives you complete control over your finish ! use the drop down to select different custom wraps ! we also have many other wraps to on our Drum Finishes and social media page please check these out !
Description
Cheapest electronic drum shell pack on the net !!! No one comes close to what we have to offer !! If you're thinking about upgrading your electronic pad kit then look no further !! Full-size kit! but budget price, No compromise !! Just look at the amazing specs below :
* High quality Chrome parts and lugs !
* Jobeky ERT technology ! fitted as standard like in our pro levels kits !!
* Jobeky  2ply premium mesh heads !
* Jobeky custom made badge!
*Heavy duty Omni-ball 3 way tom tom holder !
*Heavy duty bass drum claws and spurs !
*Customizable wrap finishes
Comes with New premium 2ply mesh head's !! support's our ERT triggering which is in all our eDrum range !!
Drum Spec :
*Bass wood shell material 7.5mm
*Acoustic size shell pack 10×7, 12×8 14×12 20×16 14×5.5
*low profile bullet style mounted lug boxes ( High quality Chrome finish )
*All toms come with dual zone feature (head and rim ) with our Jobeky ERT triggering system
*Each drum is fitted with premium 2ply mesh head
*Snare and toms come with pro rubber rim which is removable.
*Jobeky 1/4 inch jack connector designed by us for easy connection
eDrums: Compact sizes
10×7 dual zone rack tom
12×8 dual zone rack tom
14×12 dual zone floor tom comes with floor tom legs included
14×5.5  dual zone snare drum
20×16 bass drum comes with omni-ball 3 way tom tom holder
CYMBAL SET ONE : 1x PIECE  14″ HI-HAT + CONTROLLER 16″ CRASH 18″ INCH 3 ZONE RIDE
Jobeky NEW range of electronic LOW VOLUME cymbals ! made from hard wearing alloy ! finished in beautiful Gold or Silver finish ! each cymbal has perforated holes for low volume sound. The cymbals have a EPDM edge ring fitted to cut off any vibrations and keep it extra quiet on impact !  the cymbal has dual zone features bow and edge.
* Dual zone, bow edge and choke features
* Separate bell input design features a large bell, 2 piezo triggers for separate bell and bow sounds + choke
* ¼" TRS (stereo) output
Cymbal does not come with cables this can be brought from our on-line store
Comes with twin tom tom holder and legs for floor tom
please note this sale is for the shell pack only and cymbal package 14″ 16″ 18″
cable's not included, these can be brought from our online shop.
*Works with Roland, 2box modules and software based midi devices
---
Only logged in customers who have purchased this product may leave a review.