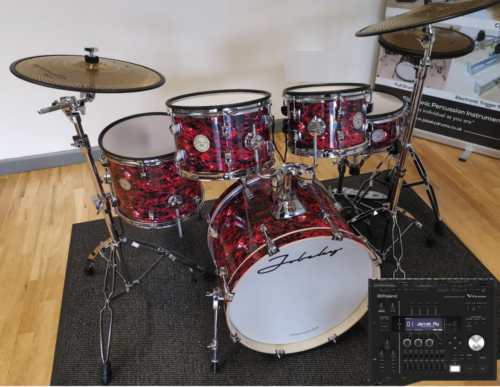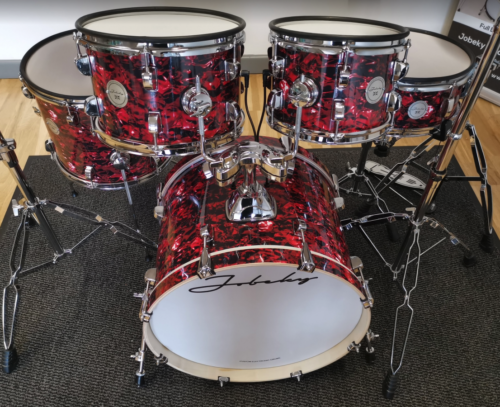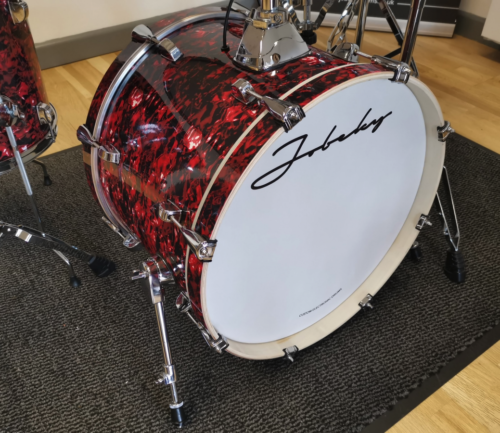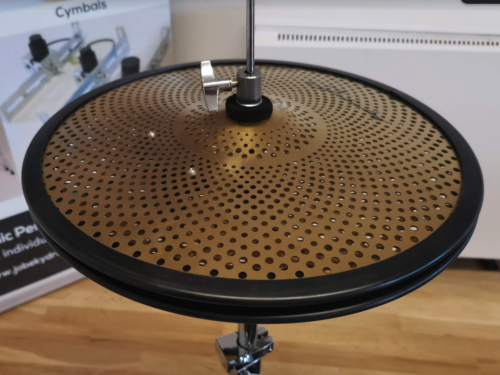 *NEW *Jobeky Roland TD-50 Compact Pro Electronic Drum Kit
£4,253.85
Shipping Weight: 37kg
Manufactured by: Jobeky
Description
Compact Pro gives you complete control over your finish, from stunning wraps !!
We at Jobeky pride our self by giving you the best electronic drums on the planet but also affordable! Our new COMPACT PRO range gives you this plus more! The COMPACT PRO range is fitted with our ERT triggering system and comes with 2ply premium mesh heads! Fully responsive across each drum without any loss of sensitivity! All in fusion sizes to give you that real feel like playing an acoustic drum set! Our ERT triggering system is different to any trigger system available in any electronic drums and was developed by Jobeky to give you that optimum playing experience. If you have any questions about any of our products please don't hesitate to contact us.
Let us take a look at some of the features of the Jobeky COMPACT PRO
*Basswood /birch mixed shell material 7.5mm Acoustic size shell pack
*low profile bullet style mounted lug boxes
*All toms come with dual zone feature (head and rim ) with our Jobeky ERT triggering system
*Each drum is fitted with  premium 2 ply mesh head
*Snare and toms come with pro rubber rim which is removable.
*Jobeky 1/4 inch jack connector designed by us for easy connection
*Omni-ball 3 way tom holder
*Heavy-duty bass drum claws and  spurs
Jobeky COMPACT PRO kit package with Roland TD-30:
eDrums:
10×7 dual zone rack tom ( dual zone)
12×8 dual zone rack tom ( dual zone )
14×12 dual zone with floor tom with legs
14×5.5  dual-zone snare drum
20×16 bass drum
600 series stands:
snare stand
hi-hat stand
cymbal stand
cymbal boom stand
bass drum tom tom holder
JOBEKY LOW VOLUME CYMBALS:
14″ 2 PIECE DUAL ZONE HI-HAT AND CONTROLLER
18″ DUAL CRASH
20″ 3 ZONE RIDE
cables for edrums and cymbals
DRUM MODULE: ROLAND TD-50
Roland TD-50 Series Artist-Tuned Kits
Roland are currently offering a free download of their TD-50 Series Artist-Tuned kits which are compatible with any TD-50 drum module. The module is originally equipped with a range of preset kits, which can all be customised, providing you with a versatile starting point for creating your own custom drum kits. The latest artist series kits are designed for those looking for out-of-the-box performance and quality, with powerful sounds that have been pre-tuned by professionals. With sounds from a range of V-Drums artists including Michael Schack, Craig Blundell and Dirk Brand, alongside some of Roland's top drum product specialists, the Artist Series kits download consists of 15 pre-tuned Roland preset kits, with a range of high-quality bespoke kits, for use at your disposal. For more information and to claim your free download of Roland's TD-50 Series Artist-Tuned Kits
Dynamic Prismatic Sound Modelling for Professional Performance
The Roland V-Drums TD-50 Module is a powerful tool for pro drummers. The new Prismatic Sound Modelling technology conveys every element of your performance in thrilling detail. When you combine this module with Roland's new trigger pads with advanced trigger-sensing technology you're guaranteed the most authentic, expressive and resonant drum sounds you'll hear from any electronic kit.
Advanced Sound Customisation for Live and Studio Work
The TD50 includes onboard kits to suit every session. The advanced module supports deep sound customisation, including basic adjustment of heads and shells, layering of internal and user samples, and adjustment of overhead mics and ambience control. For tailored performance, the compressor and 3-band EQ effect can be controlled by each pad individually, while three independent multi-effect sections let you treat specific drums with 30 effect types such as delay, flanger and saturator. The 2-band multi-compressor and 4-band equaliser let you change the output balance and volume, depending on whether you're in the studio or onstage. The new Snapshot feature is a fast way to assess and compare any edits to your sounds before making permanent changes.
Technique Development Features
Because all great drummers know there's always room for improvement, the Roland TD50 contains tutorial features including Quiet Count for timing and play along via SD.
WAV and DAW Compatibility Perfect for Creative Drummers
The TD-50's open-ended connectivity lets your inspiration flow in both directions. Play external WAV files with the SD slot then trigger them using any Roland drum or cymbal pad. Loop or layer your own WAV file sounds alongside the internal sounds whilst controlling audio and volume via the TD-50's front panel. Connect to a PC or Mac with the USB cable for multi-track recording on your favourite DAW. Up to 10 channels can be recorded separately, then easily edited for tone colour and more, and there's a choice of audio sampling formats (48kHz, 96kHz and the standard 44.1kHz).
Gig Ready PA Connection and 8 Direct Outs
If you gig regularly the Roland TD-50 could help avoid any lengthy set-ups. It's the first Roland drum module to feature a balanced XLR Master Out for direct connection to a PA system without a DI box. 8 Direct Outs (TRS) are also included and assigning the pad to any of the individual outputs is simple. Convenient master/phones volume controls and group faders balance the output level for each pad instantly. You can even send the output via the phones output, to control the level of your monitor sound without routeing it through the PA.
Record Your Performances
The TD-50 Drum Sound Module includes a unique audio record function. Simply hit record and start playing to record your performance. If you're playing to a click or to a backing track, there's an option to record with the drums only or record both drums and track together. Your recordings can then be easily exported for upload and editing in your DAW.
Configuration: The Jobeky COMPACT PRO kit is supplied as standard with our latest series of toms, including 10×7″ 12×8″, 14×12″ floor tom on legs, one 14×5.5″ snare drum all dual zone and 20×16″ bass drum
Jobeky 600 series Hardware: We provide our new heavy duty stands with a polished chrome finish, heavy OMNI-BALL tom holder which allow perfect positioning of your toms with the minimum of fuss mounted on the bass drum For maximum flexibility, we also provide with the kit, snare stand,hi-hat stand, 1x straight cymbal stand 1 x boom cymbal stand.
Electronic Bass Drum: A 20" x 16" constructed to our exacting internal standards using an all 7.5mm wood shell, and an 16 lug design with a traditional hoop and claw. Finally an electronic bass drum looks like a real acoustic! Featuring almost silent play mesh heads, and with an amazing performance level this bass drum really turns heads,( Optional )Wire-in-wire-out technology built into the bass drum for easy connection of the rack toms, the genius idea gives your more control over your cables for better cable management!
Construction: The Jobeky COMPACT PRO offers extraordinary strength and rigidity when set up, but is also lightweight and easy to transport. This kit a truly stunning centerpoint of any practice room or stage. This setup can handle the hardest of heavy hitters without ever missing a beat!
---
Only logged in customers who have purchased this product may leave a review.