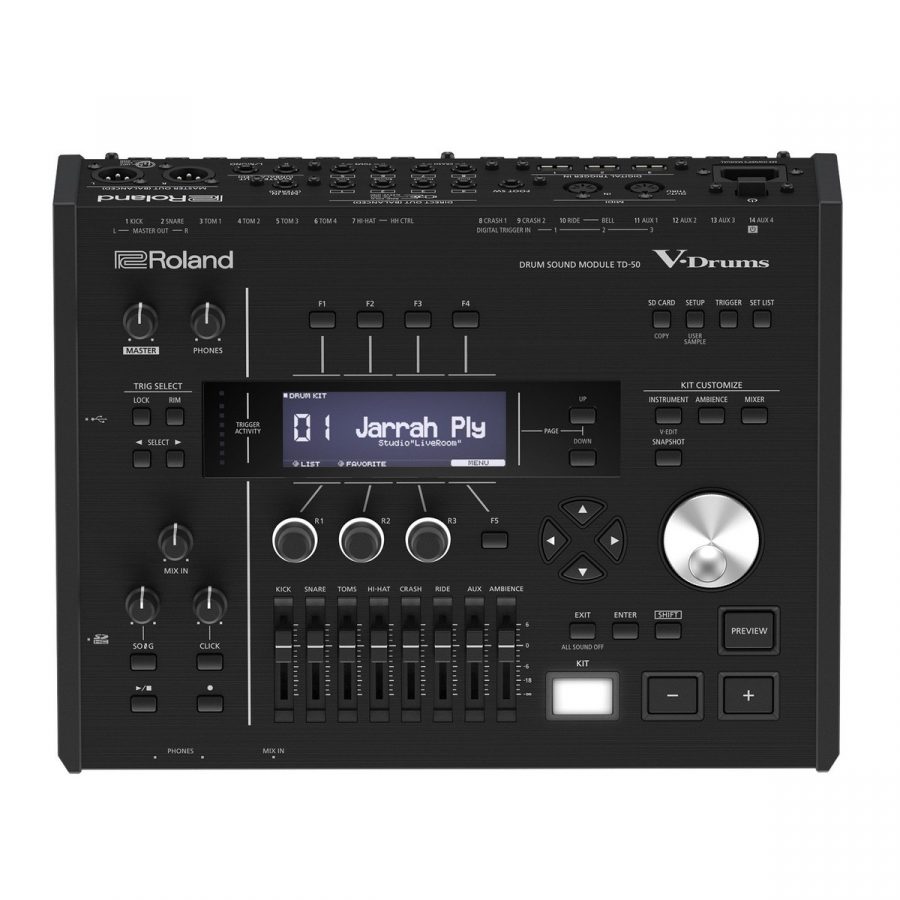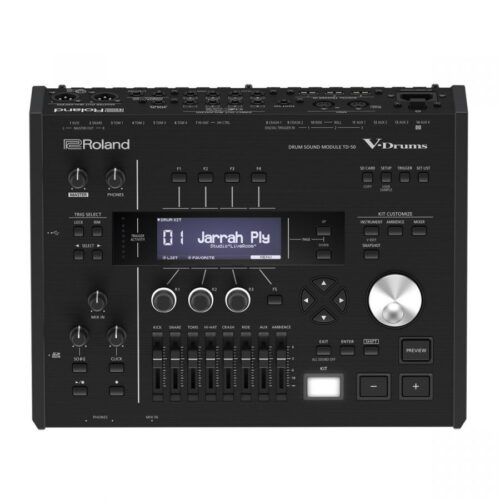 Roland TD-50 V-Drums Pro Drum Sound Module
£2,069.00
The Roland TD-50 V Drum Module is a powerful tool for ambitious pro drummers. Over 400 dynamic and expressive sounds along with Prismatic Sound Modeling deliver Roland's most thrilling playing experience yet.
Description
The Roland TD-50 V Drum Module is a powerful tool for ambitious pro drummers. Over 400 dynamic and expressive sounds along with Prismatic Sound Modeling deliver Roland's most thrilling playing experience yet. Play your own WAV samples from an SD card, trigger your favourite DAW, record your performances or use the included Quiet Count feature to perfect your playing even further. You can fully customise your sounds with the advanced editing to get exactly the sound you want and with a direct PA connection and 8 Direct Outs, this kit is fully gig ready. The advanced processor is complemented by 3 digital pad inputs.
Dynamic Prismatic Sound Modeling for Professional Performance
The Roland V Drums TD-50 Module is a powerful tool for pro drummers. The new Prismatic Sound Modeling technology conveys every element of your performance in thrilling detail. When you combine this module with Roland's new trigger pads with advanced trigger sensing technology you're guaranteed the most authentic, expressive and resonant drum sounds you'll hear from any electronic kit.
Advanced Sound Customisation for Live and Studio Work
The TD50 includes onboard kits to suit every session. The advanced module supports deep sound customisation, including basic adjustment of heads and shells, layering of internal and user samples, and adjustment of overhead mics and ambiance control. For tailored performance, the compressor and 3-band EQ effect can be controlled for each pad individually, while three independent multi-effect sections let you treat specific drums with 30 effect types such as delay, flanger and saturator. The 2-band multi compressor and 4-band equalizer let you change the output balance and volume, depending on whether you're in the studio or onstage. The new Snapshot feature is a fast way to asses and compare any edits to your sounds before making permanent changes.
Technique Development Features
Because all great drummers know there's always room for improvement, the Roland TD50 contains tutorial features including Quiet Count for timing and play along via SD.
WAV and DAW Compatibility Perfect for Creative Drummers
The TD-50's open ended connectivity lets your inspiration flow in both directions. Play external WAV files with the SD slot then trigger them using any Roland drum or cymbal pad. Loop or layer your own WAV file sounds alongside the internal sounds whilst controlling audio and volume via the TD-50's front panel. Connect to a PC or Mac with the USB cable for multi track recording on your favourite DAW. Up to 10 channels can be recorded separately, then easily edited for tone colour and more, and there's a choice of audio sampling formats (48kHz, 96kHz and the standard 44.1kHz).
Gig Ready PA Connection and 8 Direct Outs
If you gig regularly the Roland TD-50 could help avoid any lengthy set-ups. It's the first Roland drum module to feature a balanced XLR Master Out for direct connection to a PA system without a DI box. 8 Direct Outs (TRS) are also included and assigning the pad to any of the individual outputs is simple. Convenient master/phones volume controls and group faders balance the output level for each pad instantly. You can even send the output via the phones output, to control the level of your monitor sound without routing it through the PA.
Record Your Performances
The TD-50 Drum Sound Module includes a unique audio record function. Simply hit record and start playing to record your performance. If you're playing to a click or to a backing track, there's an option to record with the drums only or record both drums and track together. Your recordings can then be easily exported for upload and editing in your DAW.
Features
Flagship electronic sound module with ultimate expression
400+ dynamic and expressive instruments in high-quality audio
New TD-50 sound module with Prismatic Sound Modeling
Digital Pad inputs (USB) x 3 for new 14" Digital Snare (PD-140DS) and 18" Digital Ride (CY-18DR) multi-sensor system
Play your own WAV samples via SD card
USB 10-channel Out/4-channel In for multi-track recording through a single USB cable
Master Output (XLR) and 8 Direct Out (TRS), balanced for PA connection
Metronome with Quiet Count and audio playback function for practice
Audio record function to capture and export drumming performances
Advanced V-Edit system to customize drum and cymbal sounds
Specifications
Drum Kits: 100
Instruments: More than 400
Effect Types:
Pad Compressor: each pad
Pad Equalizer: each pad
Room Type: 25 types
Reverb Type: 5 types
Stereo Enhancer
Multi-Effects: 3 systems, 30 types
Master Compressor
Master Equalizer
User Sample Import:
Number of User Sample: Maximum 500 (includes factory preloaded user samples)
Sound Length (total): 24 minutes in mono, 12 minutes in stereo
File formats that can be loaded: WAV (44.1 kHz, 16/24 bits)
Song Player (SD Card): Audio File: WAV (44.1 kHz, 16/24 bits), MP3
Recorder:
Recording Method: Realtime
Maximum Note Storage: approx. 40,000 notes
Export File Format: WAV (44.1 kHz, 16 bits), SMF
Display:
Graphic LCD 256 x 80 dots
TRIGGER ACTIVITY Indicator (LED)
Faders: 8 (KICK, SNARE, TOMS, HI-HAT, CRASH, RIDE, AUX, AMBIENCE)
External Memory: SD Card (SDHC supported)
Connectors:
TRIGGER IN jack x 14: 1/4-inch TRS phone type (Excluding use with digital pad)
DIGITAL TRIGGER IN port x 3: USB A type
MASTER OUT (UNBALANCED) jacks (L/MONO, R): 1/4-inch phone type
MASTER OUT (BALANCED) jacks (L, R): XLR type, balanced
DIRECT OUT (BALANCED) jack x 8: 1/4-inch TRS phone type, balanced
PHONES jack x 2: Stereo 1/4-inch phone type, Stereo miniature phone type
MIX IN jack x 2: Stereo 1/4-inch phone type, Stereo miniature phone type
MIDI (IN, OUT/THRU) connectors
USB COMPUTER port: USB B type (USB Hi-Speed AUDIO/MIDI)
FOOT SW jack: 1/4-inch TRS phone type
AC IN jack
Number of USB Audio Record/Playback Channels:
Sampling Rate (Original): 44.1 kHz
Sampling Rate (with Sampling rate converter): 96 kHz, 48 kHz
Record: 10 channels
Playback: 4 channels
Power Supply: AC 117 V, AC 220 V, AC 230 V, AC 240 V
Power Consumption: 30 W
Dimensions: 330 (W) x 255 (D) x 118 (H) mm, 13 (W) x 10-1/16 (D) x 4-11/16 (H) inches
Weight: 3.3 kg/7 lbs 5 oz
Accessories:
Quick Start
Power Cord
Options (sold separately):
Pad: PD series, PDX series, BT-1
Cymbal: CY series
Kick: KD series, KT series
Hi-Hat: VH-series
Hi-Hat Control Pedal: FD series
Acoustic Drum Trigger: RT series
Footswitch: BOSS FS-5U, FS-6
Personal Drum Monitor: PM-10
Drum Stand: MDS-50KV, MDS-50K
---
Only logged in customers who have purchased this product may leave a review.