Jobeky UK Custom Drum Festivals
The annual Jobeky UK Custom drum festival was original established by us back in 2009 as a place to show off some great and genuinely innovative UK custom drum companies and their products, and witness some inspiring percussion performances from some very talented drummers in clinics that run throughout the day. It's a great day out to meet up with fellow drummers and experience the latest products from UK companies that you can't usually find in your average music shop. The regular clinics hosted by our endorsees and other influential drummers indulge a mixed range of drumming styles, and always delivers unique and truly amazing performances.
For the last few years we have hosted the event in Stafford's County Showground, and have invited a fantastic array of some of the best and most innovative UK companies, showing just how great the UK drumming industry is, including appearances from: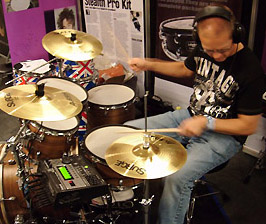 ---
Jobeky Custom Drum Festival: May 1st 2011 - Mike Dolbear Review
"The third Jobeky Custom Drum was a drum show like no other. It was relaxed and friendly, yet exciting and packed with treats. All of the exhibitors and clinicians were of the highest standard, reinforcing the fact that the UK drum scene is thriving despite the economic climate.
It was a chance to meet custom makers and talk about their work and there was more than enough to interest everyone. The quality of the work on display has improved year on year and it is sure to continue in this trend in the future. Next year's show is already booked for 6th May at the same venue."
---
Jobeky Drum Festival 2011 - Music Radar Review
"The bank holiday weekend just gone was great for topping up your tan and finishing off the last morsels of Easter's chocolate haul. But, on Sunday we broke out of our confectionary-induced slumber and headed to Stafford for the third annual Jobeky Drums Festival.
As well as star clinics from Steve White, Pete Cater and more, the event saw the great and the good of the UK's drum world bust out a bounty of gorgeous gear, the pick of which we've gathered together for you right here.
Fittingly we're kicking things off with Jobeky's own gear, which including several kits featuring acoustic looks and electronic practicalities. As ever, great stuff from Jane and Colin at Jobeky."