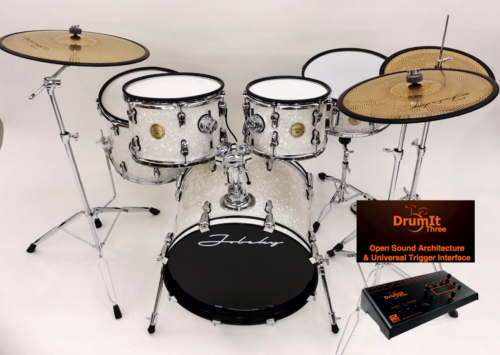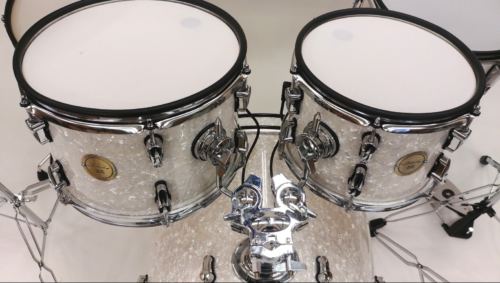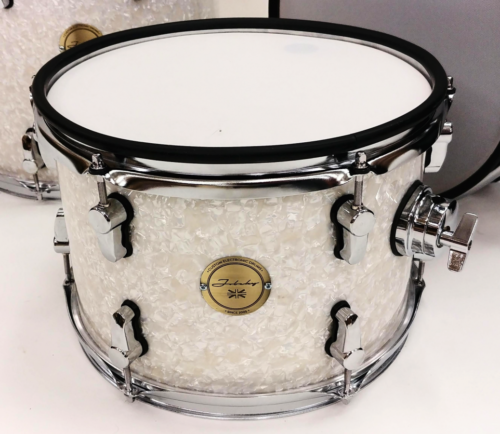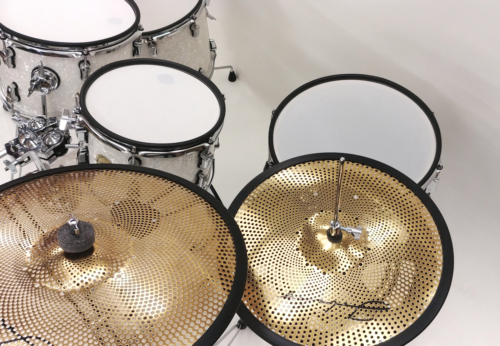 Jobeky 2Box DrumIT Three Compact Pro Electronic Drum Kit
Shipping Weight: 37kg
Manufactured by: Jobeky
Compact Pro gives you complete control over your finish ! stock kits comes in Gloss white but you can use the drop down to select different custom wraps ! we also have many other wraps to on our Drum Finishes page please check these out !
£2,099.00
Description
Additional information
Reviews (0)
Description
New Jobeky Compact pro black/chrome hardware
Compact Pro gives you complete control over your finish, from stunning wraps !!
We at Jobeky pride our self by giving you the best electronic drums on the planet but also affordable! Our new COMPACT PRO range gives you this plus more! The COMPACT PRO range is fitted with our ERT triggering system and comes with 3 ply mesh heads! Fully responsive across each drum without any loss of sensitivity! All in fusion sizes to give you that real feel like playing an acoustic drum set! Our ERT triggering system is different to any trigger system available in any electronic drums and was developed by Jobeky to give you that optimum playing experience. If you have any questions about any of our products please don't hesitate to contact us.
Let us take a look at some of the features of the Jobeky COMPACT PRO
*Bass wood shell material 7.5mm
* Full Acoustic size shell pack with SUSPENSION MOUNTS
*low profile bullet style mounted lug boxes black powder coated
*All toms come with dual zone feature (head and rim ) with our Jobeky ERT triggering system
*Each drum is fitted with 3ply mesh head
*Snare and toms come with pro rubber rim which is removable.
*Jobeky 1/4 inch jack connector designed by us for easy connection
*Omni-ball 3 way tom tom holder
*Heavy duty bass drum claws and  spurs
Jobeky COMPACT PRO kit package with 2Box DrumIT3
eDrums:
10×7 dual zone rack tom ( dual zone)
12×8 dual zone rack tom ( dual zone )
14×12 dual zone with floor tom with legs
14×5.5 dual zone snare drum
20×14 bass drum
600 series stands:
snare stand
hi-hat stand
cymbal stand
cymbal boom stand
bass drum tom tom holder
LOW VOLUME ELECTRONIC CYMBALS
14″ DUAL ZONE HI-HAT AND CONTROLLER
16″ DUAL CRASH
18″ 3 ZONE RIDE
DRUM MODULE: 2Box DrumIT3
Say hello to the world's first drum module with an Open Sound Architecture and a Universal Trigger Interface.
Play any pad of your choice [NEW]
The original DrumIt concept was a truly ground breaking and new sensation in electronic drums when introduced. We are now taking this technology one step further and present the DrumIt Three module with Open Sound Architecture and Universal Trigger Interface.
Based on the same technology as the DrumIt Five we have now added the Universal Trigger Interface allowing the user to connect any kind of pad/trigger to the module*. The new DrumIt Three comply with all popular major drum pad manufacturers' pads, including cymbals and hi-hats.
Open Sound Architecture
Enter the world of DrumIt sounds to enjoy the real playing feel, the expressive dynamics and the superior sound quality. Update your old e-drum kit with modern sounds. Be amazed to suddenly being able to play buzz rolls and crescendo cymbals closer to the real thing than you could imagine possible. But it is!
Our sound library holds tons of multilayered sounds recorded in top studios and carefully edited. As the sounds consist of many velocity layers, the gradual change between faint and hard hits is faithfully reproduced. Our PC Editor for Windows and MAC offers the possibility to create new sounds and loops from Wave fi les and convert them to our sound format and download them into the Module via USB.
Save time and money
The DrumIt Three is a price-worthy and cost-effective alternative to update your current e-drum kit. You can use the e-drum kit hardware you already have. Connect the module, tune in the trigger settings to your particular pad system and off you go, it's as simple as that.
Play the sounds of famous drummers
The DrumIt Three comes with stock sounds of Randy Black, Marco Minneman and Simon Phillips. If that is not enough for you there are plenty more sounds to be downloaded from the 2box website.
Use other sound sources – Your sound possibilities are endless
Third party software allows you to convert sounds from famous drum sound libraries and play those sounds in your DrumIt Three sound module instead of triggering sounds via MIDI to a PC. By playing the sounds from the module you will not experience any latency and time consuming compatibility issues. As the sounds are moved into the module, the playing feel is superior with ultra low latency and a great dynamic range.
Be in control [NEW]
The Universal Trigger Interface of the DrumIt Three allows the user to control functions for a trigger. For example, start and stop loops and/or Metronome by hitting a pad or change Kit up and down by hitting 2 pads.
*Main features** 44,1 kHz Sample rate with 24 bit digital to analog converters
*4 GB sound memory
*15 universal trigger inputs configured as kick, snare with rim, 4 toms with rim, 1 Hi-hat and 3 cymbals. *3-zone snare and cymbals are supported.
*4 Outputs
*Line In
*MIDI In/Out
*USB for transferring data
*Professional sounds made by famous drummers
*Sounds are multilayered for unparalleled sound quality and playing feel
*Trig and play along to loops – freely assignable to any trigger input
*Play along to WAV song files or metronome or connect your media player to the Line In socket
*Comes with our Kit- and Sound-Editor (Windows and Mac) to create own Kits and to download own sounds and loops
*Trigger inputs accept the majority of triggers based on Piezo- and switch technology*
*Advanced control features enable triggering functions such as start/stop loops or metronome
*Switching Kits up and down are freely assignable to any of the 15 trigger inputs
*Multi plug AC power supply 100-240V
cables for edrums and cymbals
Configuration:
The Jobeky COMPACT PRO kit is supplied as standard with our latest series of toms, including 10×7″ 12×8″, 14×12″ floor tom on legs, one 14×5.5″ snare drum all dual zone and 20×14″ bass drum
Jobeky 600 series Hardware: We provide our new heavy duty stands with a polished chrome finish, heavy OMNI-BALL tom holder which allow perfect positioning of your toms with the minimum of fuss mounted on the bass drum For maximum flexibility, we also provide with the kit, snare stand,hi-hat stand, 1x straight cymbal stand 1 x boom cymbal stand.
Electronic Bass Drum: A 20" x 14" constructed to our exacting internal standards using an all 7.5mm wood shell, and an 16 lug design with a traditional hoop and claw. Finally an electronic bass drum looks like a real acoustic! Featuring almost silent play mesh heads, and with an amazing performance level this bass drum really turns heads,( Optional )Wire-in-wire-out technology built into the bass drum for easy connection of the rack toms, the genius idea gives your more control over your cables for better cable management!
Construction: The Jobeky COMPACT PRO offers extraordinary strength and rigidity when set up, but is also lightweight and easy to transport. This kit a truly stunning centerpoint of any practice room or stage. This setup can handle the hardest of heavy hitters without ever missing a beat!